Popular Social Media Apps Made in India, Top 5 Indian Social Media Apps
Popular Social Media Apps Made in India, Top 5 Indian Social Media Apps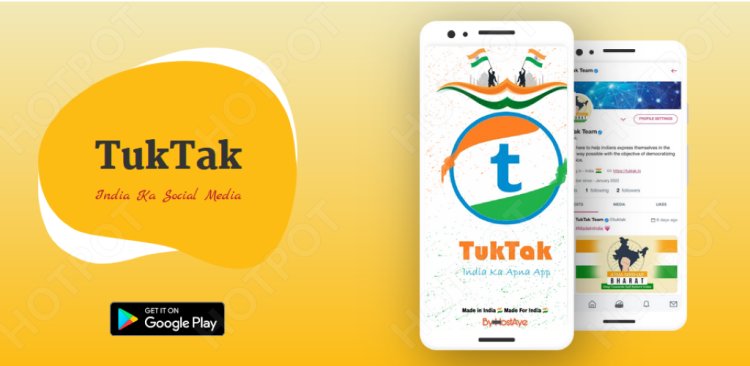 Here are the 5 best Indian social media apps people can use.
1. TukTak - Indian (twitter) social media app
TukTak is a Indian micro-blog website & app. Where Indians express themselves in the easiest way possible with the objective of democratizing their voice. Share your thoughts in text, image, audio or video. It was founded by Prasenjit Kuiry who is the current CEO of the application. TukTak has many of the same capabilities as Twitter, it also lets users publish in Indian languages other than Hindi.
One of Tuktak's selling advantages is that it is available in numerous Indian languages. "To connect with Indians in Indian languages," it says on its website. TukTak can be used on a computer (website - https://www.tuktak.in) or on a mobile device (app). It's available in the Google Play Store, and users may sign up with their email. Currently, English, Kannada, Tamil, Marathi, and Telegu are supported by TukTak. Support for Bengali, Gujarati, Oriya, Malayalam, Punjabi, and Assamese is also in the pipeline, according to their website. A user can write up to 600 characters of text, which is higher than Twitter's limit of 280 characters. All multimedia functions, including audio and video recording, are likewise supported by TukTak.
Some of the most prominent faces of India use TukTak. You will also find millions of others from all walks of life. TukTak is home to the Voices of India. Follow people you like, know what's on their mind and share your thoughts with India too.
2. Sharechat
ShareChat is an Indian Social Media app. It is a social networking service that is growing to become one of the best social media apps for chatting with its headquarters in Bangalore, India. Mohalla Tech Pvt. Ltd is the parent company and they were the ones who developed the app. Its initial release was during the month of January 2015. ShareChat is available in GooglePlay and also for iOS users. You can use Share Chat in over 15 different languages.
The company was started by Ankush Sachdeva, Bhanu Pratap Singh, and Farid Ahsan, who were graduates of IIT Kanpur. This Mobile Application has 250+ Million monthly active users.
ShareChat offers features that include private messaging. You can even tag people in videos using this platform. This platform also allows you to share social content with other unknown users such as videos, jokes, songs, and other language-based content.
ShareChat's parent company Mohalla tech has acquired some companies lately including Transversal, a tech-owned short video platform; Elanic, which is a Bengaluru-based online fashion marketplace; Member, which is a meme discovery and sharing platform, and Circle Internet, which is a hyperlocal information platform. All the above platforms were acquired for undisclosed amounts.
3. Josh
Josh is an Indian-based short video platform It was launched in the year 2020 in September by Dailyhunt. Dailyhunt is an Indian content and daily news application which is located in Bangalore, India. It provides content in 14 Indian languages. It was founded by Umesh Kulkarni and Chandrashekar Sohoni who were ex-Nokia employees. It was released initially in the year 2010.
The short video platform, Josh has short videos which are trending and viral that you can share with your followers. The app lets you create your unique videos. The App has videos on dance, music, comedy, jokes, and pranks. It also has videos on various challenges, pets, cooking.
The Mobile application has an easy-to-use Josh beauty camera with real-time filters, face stickers, special effects, makeup camera, emojis. Etc. You can even create Duet videos on Josh. You can share the videos on WhatsApp or Facebook and you can set it as your status.
Josh is India's number 1 Short videos app. The launch of this platform is considered to be the next step by Dailyhunt to release more apps in the future.
4. Flik
Flik is a social media app that is trying to change the experience of chatting by making it much more enjoyable and is gearing to stand one of the top social media platforms made in India. The app provides a feature that is a mixture of a social media app and a dating app. It was founded by Bahadursinh Jadeja and launched on the year 10th of September 2019. The parent company of this mobile application is Loopytime Pvt. Ltd.
You can connect with new people using Flik. Flik helps you in finding friends and increasing your contact. It has an additional feature which is for dating and you can match with a like-minded person on the app. Flik can be considered a dating app as well.
Flik is one of the few mobile applications that provide features such as social media and dating in a single platform. The app can be used in Hindi. It provides features such as personal messaging, video calls and voice calls, audio messages, etc. If you would like to add live stories of the content Flik allows you to do that, flik is one of the social media sites that help you to share it with your friends.
Flik allows you to share files in any format such as pdf, ppt, word, mp3, excel, Apk, zip, and much more. Flik is rated for 18+. It has 10K+ downloads on the Play store. The app is available in the Play store and the size is around 12 MB.
5. Moj
Moj app is a social media platform for video sharing and its parent company is ShareChat, and is owned by Mohalla Tech Private Ltd. Moj was founded by Ankush Sachdeva, Bhanu Pratap Singh, and Farid Ahsan. It was founded immediately after TikTok along with other Chinese apps was banned in India after the India-China situation in 2020.
The social networking platform began its journey on 29 June 2020 and in just two days 50 thousand downloads were made from the Google Play Store. The main features that it offers are special effects, emoticons to use on your videos, and others. Different genres of videos can be made like comedy, education, dancing, and acting. The duration of the videos can be of 15 seconds to 1 minute.
The app is growing to be one of the most popular social media with a support of over 15 languages and in January 2021, it has crossed 100 million downloads. In 2021, it generated $102 Million in revenue.
What's Your Reaction?