SatyaPrem Ki Katha Box Office Review: After Adipurush Debacle, Kartik Aaryan & Kiara Advani Deliver One Of The Best Movies Of The Year
Satyaprem Ki Katha: Both Kartik Aaryan and Kiara Advani deliver commendable performances in this imperfect-yet-enjoyable film.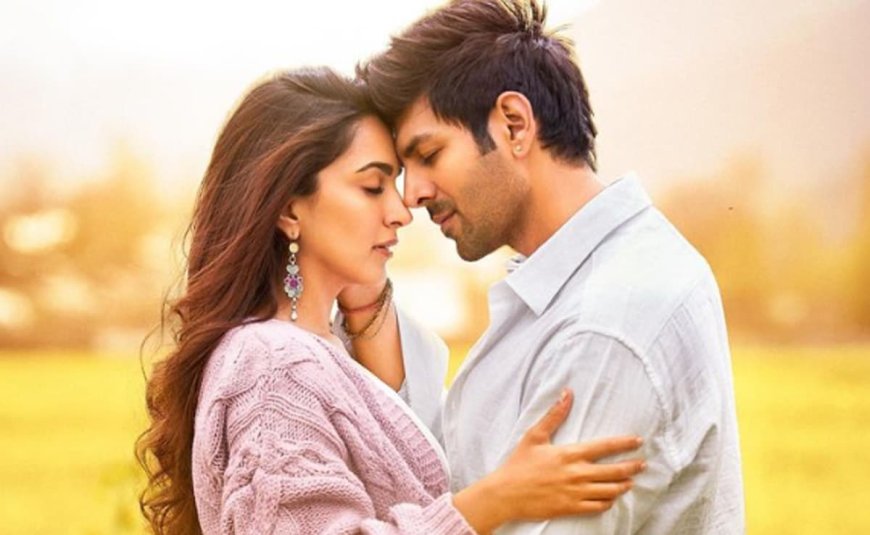 One of the great criers of her generation, Kiara's pain pierces through the screen and makes a heartfelt picture of how she feels even when the script cannot see her, observes Sukanya Verma.
A male Cinderella's romantic reveries are rudely interrupted when asked to finish household chores by his gossipy dad (Gajraj Rao), pestering mom (Supriya Pathak) and cheeky sister (Shikha Talsania).
What at first appears to be stepson treatment of a bechara bachelor (at the hands of wonderful actors with no real role) is actually a smart-alecky slacker showing no remorse for flunking his final LLB year, but mewling about all the men in his neighbourhood finding wives while he cooks flavoured khakhra for his folks.
Within the first five minutes itself, there is enough mention of khakhra and fafda to impress its Ahmedabad setting in our cognisance while asserting the story's Gujarati identity further over a course of bumbling accents, dandiya culture and local snacks.
A good portion of Kartik Aaryan's stint as Satyaprem aka Sattu involves reacting to flimsy sitcom humour and showing off his extra white pearlies but mostly, it wants us to root for a jobless virgin.
Glorifying oafs has long been a Bollywood preoccupation where good-for-nothing automatically translates to heart of gold.
Here too, Satyaprem comes to his dream girl Katha's (Kiara Advani) rescue in ways that empowers his heroics far more than her sense of justice.
Directed by Sameer Vidwans, based on a script by Karan Shrikant Sharma, Satyaprem Ki Katha's rom-com energy belies a sensitive story that is occasionally graceful in its resolve, but, ultimately too distracted by the razzle-dazzle of song and dance (including the much maligned Pasoori remix) and male saviour complex to work entirely.
And so wishful thinking hits peak silliness when Katha is pretty much dropped in Satyaprem's lap despite her unwillingness and his disbelief. A wiser script would make a scathing note of the ugly display of patriarchy by Katha's family, this one merely makes light of it.
In the tradition of slyly introduced twists concerning social taboos or mental health in the manner of Ek Ladki Ko Dekha Toh Aisa Laga, Chandigarh Kare Aashiqui or Atrangi Re that aspire to elevate run-of-the-mill entertainers and lend them timely relevance, Satyaprem Ki Katha too begins on a gimmicky note.
But when not pandering to popular whims in boisterous speeches and prolonged melodrama, there are glimpses of surprising tenderness.
What's credible is the believable confusion and gradual trust developing between Satyaprem and Katha allowing their innate decency and emotional intimacy to come through. What's nicer is how its Hum Dil De Chuke Sanam meets Ghar space confronts old-fashioned storytelling with an in-your-eye honesty.
Kartik sparkles in certain moments of vulnerability, but Kiara Advani is the reason why Satyaprem Ki Katha's simplified, sugar-coated look into serious issues like consent doesn't hit problematic notes.
One of the great criers of her generation, Kiara's pain pierces through the screen and makes a heartfelt picture of how she feels even when the script cannot see her, beyond the man who broke her trust or the man who'll mend it.
She's the real katha in search of a worthy kahani.
Satyaprem Ki Katha

Review IMDb Rating: 7.1/10
Satyaprem Ki Katha

Review Google Rating: 4.2/5
Satyaprem Ki Katha

Review AajTak Rating: 3/5
Satyaprem Ki Katha

Review Reddif Rating: 3.5/5
What's Your Reaction?