India T20I Squad vs West Indies Highlights: Maiden Call-ups for Tilak Varma, Yashasvi Jaiswal; No Place for Rinku Singh
IND VS WI T20 Squad Live Updates: The BCCI is likely to announce the Indian men's squad for the 5-match T20I series against West Indies. Stay tuned for all the live updates regarding the squd announcement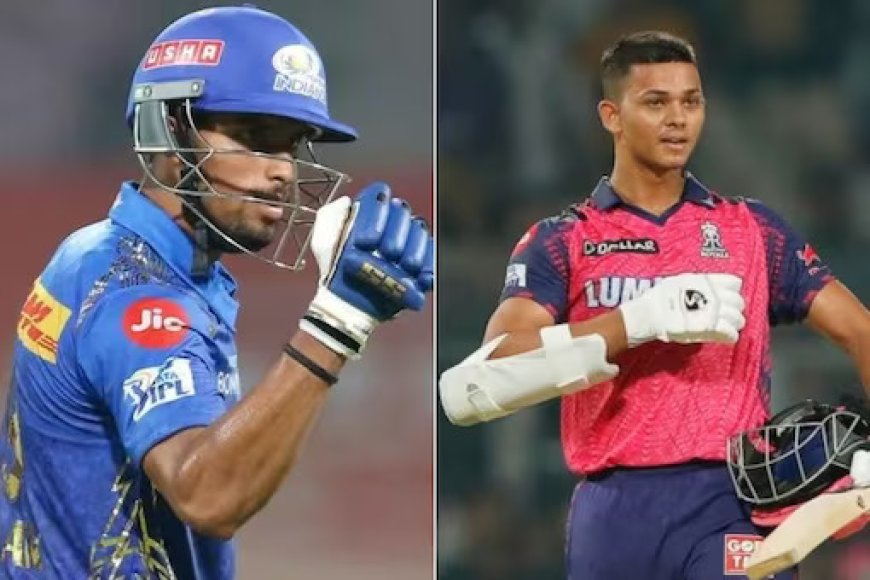 India Tour Of West Indies Squad Announcement Highlights: The Ajit Agarkar-led senior men's selection committee on Wednesday picked India's squad for the upcoming five-match T20I series against West Indies. The likes of Yashasvi Jaiswal and Tilak Varma have received maiden call-ups while young batter from Aligarh Rinku Singh has been overlooked. The team will be led by Hardik Pandya with Suryakumar Yadav as his deputy.
A day after the appointment of Ajit Agarakar as Team India's chief selector, the BCCI is set to announce the squad for the 5-match T20I series against the West Indies in August.
IND vs WI, T20I squad annoucement: No Place for Rinku Singh, Tilak Varma, Yashasvi Get Maiden call-ups
Yashasvi Jaiswal and Tilak Varma received maiden T20I call-ups as India on Wednesday announced the squad for the upcoming five-match series against West Indies. Both Yashasvi and Varma had an impressive IPL 2023 with the bat for Rajasthan Royals and Mumbai Indians, respectively.
On the other hand, Rinku Singh was denied a chance. Neither was he picked up for the upcoming Emerging Teams Asia Cup. At the same time, wicket-keeper batter Sanju Samson also returned to the squad, which was picked by the senior men's selection committee led by Ajit Agarkar.
Meanwhile, senior players Virat Kohli and Rohit Sharma continue to miss out on the T20Is, with Hardik Pandya continuing as captain while Suryakumar Yadav has been named his deputy.
IND vs WI, T20I squad annoucement: Ajit Agarkar-led selection committe announce squad
Ishan Kishan (wk), Shubman Gill, Yashasvi Jaiswal, Tilak Varma, Surya Kumar Yadav (VC), Sanju Samson (wk), Hardik Pandya (C), Axar Patel, Yuzvendra Chahal, Kuldeep Yadav, Ravi Bishnoi, Arshdeep Singh, Umran Malik, Avesh Khan, Mukesh Kumar
IND vs WI, T20I squad annoucement: Should Tilak Varma also get a spot?
Mumbai Indians star batter Tilak Varma is likely to be considered for the Windies T20Is. After making his IPL debut last year, the Hyderabad youngster has played 25 games so far and has scored 740 runs at an average of 38.95. He has played 4 first-class games, 16 List A games and 15 T20 games.
IND vs WI, T20I squad annoucement: RR CEO praises Yashasvi Jaiswal
"He's had to fight for everything he's achieved in life. He's learned so much. We've developed him, whether we've helped him travel around the world, learned from different cultures, we've pushed him into business environments. So he has to present in front of those people," RR CEO Jake Lush McCrum told CricketNext.
IND vs WI, T20I squad annoucement: Jaiswal likely to get maiden call-up
Yashasvi Jaiswal is another aspiring candidate to get a T20 call-up. He is already in the Test squad and if the news reports are believed, he will be in the T20 squad too. Jaiswal had a terrific season for the Rajasthan Royals in the IPL 2023 where he scored 625 runs in 14 games.
IND vs WI, T20I squad annoucement: Suresh Raina praises Rinku Singh
"I think he should be in the World Cup team when he should play number five or six. And he's a grand player. I think he's a different superstar. The way he's been batted showed his character. He showed his discipline. I think he's a very hungry person to perform under pressure. That's what he did for KKR. I was very impressed because when I was a captain (in Ranji), he always wanted to improve his game," Raina had told CricketNext.
IND vs WI, T20I squad annoucement: Ajit Agarkar gets into the business
Former Indian star Ajit Agarkar on Tuesday was appointed as the chairman of the selection committee. His assignment begins with picking up the team for the West Indies T20Is. The CAC unanimously selected the former cricketer on Tuesday after interviewing several applicants for the position of one selector.
Agarkar represented the country in 26 Tests, 191 ODIs, and four T20Is, in addition to playing 110 first-class, 270 List A, and 62 T20 matches. As a former fast bowler, he was part of India's victorious squad in the inaugural T20 World Cup held in South Africa in 2007.
India T20I squad announcement: Schedule of West Indies T20Is
5-match T20I series, August 4 to August 8
1st T20I: August 4, Trinidad
2nd T20I: August 6, Guyana
3rd T20I: August 8, Guyana
4th T20I: August 12, Florida
5th T20I: August 13, Florida
What's Your Reaction?