At PM's Mega Karnataka Campaign Speech, Message To End "Revdi Culture"
Karnataka Election 2023: PM Modi also hit out at the Congress on the issue, saying when the party's warranty itself has expired, its guarantees have no meaning.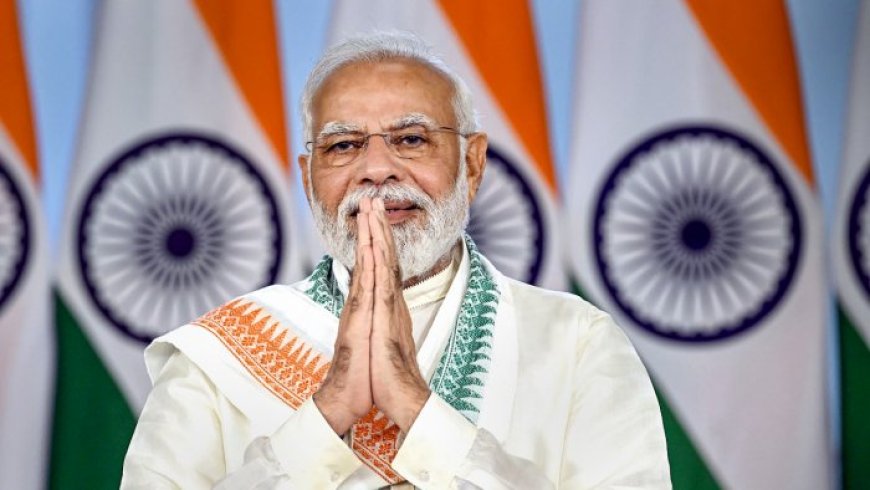 Prime Minister Narendra Modi today addressed through virtual mode tens of lakhs of BJP workers exhorting them to strengthen booth-level campaigning for the coming Karnataka Assembly elections, to win with majority, and made a strong pitch for ending "revdi culture" (culture of distributing freebies).
PM Modi also hit out at the Congress on the issue, saying when the party's warranty itself has expired, its guarantees have no meaning.
For Karnataka polls, Congress has announced 'guarantees' that include 200 units of free power to all households, 10 kg of rice free to every member of BPL household (Anna Bhagya), ₹ 2,000 monthly assistance to woman head of every family (Gruha Lakshmi), and ₹ 3,000 every month for graduate youth and ₹ 1,500 for diploma holders (both in the age group of 18-25) for two years, on coming to power.
The Prime Minister said states are getting immersed in debt because of freebies, and emphasised that the country and the governments cannot be run like this.
"In our country some political parties have made politics the means of power and corruption, to achieve this, they are using all means like 'saam, dham, dhand, bedh'. These political parties don't think about the future of the country, future generation of Karnataka, its youth, women," PM Modi said.
The PM's address to BJP workers was part of the party's effort to boost its campaign for May 10 Assembly polls.
The party said earlier this week about 50 lakh workers from 58,112 booths would attend this "virtual rally" of the Prime Minister.
The State BJP is looking to PM Modi to bolster its campaign.
The Prime Minister is slated to undertake a whirlwind two-day tour of the State from Saturday during which he is scheduled to address six public meetings and hold two road-shows.
Noting that people of Karnataka have huge trust in state BJP, PM Modi told party Karyakartas that "Your effort in every booth will make BJP win with record seats."
"We have to make people understand our programmes, benefits of double engine governments at the booth level by sitting and talking to them. Those who have the responsibility to make long speeches will do it, but karyakartas have to put their strength in booths and win the booths."
For the fast-paced all round development, a strong and stable BJP's government with full majority is important, the Prime Minister said, adding that the people of Karnataka are ready to form such a BJP government in the state, "breaking all the records".
"I will also work with you (karyakartas) in the coming days as a BJP karyakarta to seek the blessings of people of Karnataka and win the trust of Kannadiaga," he said, stressing on victory in booths PM Modi said because of freebie politics, several States are making large scale spendings for the sake of partisan politics, which is also eating into the "share" of future generations.
"The country cannot be run like this, governments cannot be run like this. Governments have to think about the future, along with the present. Governments cannot run just for day-to-day needs, they have to work on asset creation, so that the lives of families are on track for decades," he added during the "Karyakartarondige Samvada" (an interaction with workers).
PM Modi affirmed that the BJP was not taking the shortcuts, but was working for developed India with good investment in modern physical, digital and social infrastructure, and that his other interpretation for FDI (Foreign Direct Investment) is 'First Develop India' "BJP doesn't think about five years of its own rule, but thinks about the country. We don't think about the party but think about the country. We don't think just about present electoral politics but about taking India ahead in the next 25 years."
To address some temporary challenges, all possible help is being provided for the poor, like free ration, free vaccination, he said and added that it is the duty of the government, "but if we have to make India progress, we have to get rid of this revdi culture."
"I appeal to youth, some parties may try to make you fools by distributing freebies, but it's your duty to think about your future and that of your future generations."
Accusing the Congress of engaging in "revdi culture" in Himachal Pradesh and Rajasthan, PM Modi said, their poll guarantees have still remained as guarantee.
"Congress means guarantee of corruption, guarantee of nepotism," he said.
"Congress has reached a stage where it cannot give true guarantees, you are aware that Congress's warranty has expired, then what is the meaning of its guarantees," he added.
Several BJP leaders took part in the interaction from various parts of the state - Chief Minister Basavaraj Bommai and former Chief Minister BS Yediyirappa from Hubballi, state President Nalin Kumar Kateel from Mangaluru. While party national General secretary BL Santosh, poll in-charge Dharmendra Pradhan and Union Minister Shobha Karndlaje joined in from Bengaluru.
Alleging that the Congress did not show any interest in eliminating corruption as they were the "biggest source of corruption", PM Modi said, after 2014 there has been a speed in the fight against corruption.
"The 'trishul' of 'Jan Dhan', 'Aadhaar' and Mobile has made a big attack on corruption. The Direct Benefit Transfer (scheme) has saved ₹ 2,75,000 crore that were getting looted by middlemen, it is today helping the poor and the needy," he said.
The Prime Minister said the passion of BJP workers makes it different from other parties. The difference between BJP and other parties is approach. "Other parties' focus is on grabbing power, while BJP's focus is on making India developed in the next 25 years."
"Ask for votes from people for a stable and majority BJP government in Karnataka, make them understand the problems of instability that the state faced in the past," he told the BJP workers.
Highlighting the advantages of having a "double engine government", the PM said, it increases the pace of development; "without a double engine government it will cause a double hit to people".
Whenever BJP gets an opportunity to serve people, the speed and scale of development increases, he said.
"In states where there are no BJP governments, efforts are made (by parties in power there) to ensure that central government schemes are not successful there, as they fear it will bring good name to PM Modi if it is successful. Some don't get associated with programmes at all, while A few change the names of the schemes."
PM Modi said that the next 25 years, the "Amrit Kaal'' will be a guarantee for "prosperous and developed India," and his government has started working on it.
Karnataka is a major part of this journey towards development and prosperity. "Our government is working with a mantra that India's development- from Karnataka's development."
What's Your Reaction?